Distinguished Service Award
Recipient: Dr. Picard Marceau, MD, PhD., FRCSC, FACS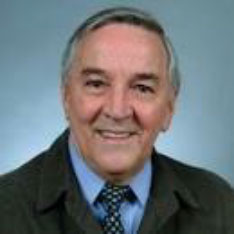 Join us as we honour renowned surgeon, Dr. Picard Marceau, a stalwart in the bariatric community with the Distinguished Service Award on Friday, May 5, 2022 @ 12:15 p.m. ET.
The CABPS Distinguished Service Award is given in honour of a bariatrician dedicated to the care of those living with obesity in Canada. The award recognizes a bariatrician's outstanding contributions to the practice of Bariatric medicine in patient care, research, and education. Watch your inbox for details on this year's recipient!
Originally from Quebec City, Dr. Picard Marceau obtained his medical degree from Laval University in 1958. After a year of residency in surgery in Quebec City, he continued his training at the Mayo Clinic in Minnesota (U.S.) from 1959 to 1965. Hecompleted his residency, and after two years of research, he obtained a Ph.D. from the University of Minnesota. He was a Fellow of the Canadian Council for Medical Research from 1964 to 1966.
Picard Marceau began his career at Laval University as a general surgeon at Laval Hospital in 1965 and retired forty years later. An assistant professor in 1966, he was appointed an associate in 1970 and a full professor in 1988. For many years, he worked diligently and energetically on a set of tasks for the Faculty of Surgery with the aim of always giving more to students in the scientific and educational fields.He held responsibilities in the Day School Program and Day School Internships of the Department of Surgery from 1970 to 1985. He is also the head of the Department of Surgery's medical ethics courses from 1995 to 2004 and a member of the pedagogical committee of the Department of Surgery of the Faculty of Medicine.
In addition to his numerous contributions to university education, Picard Marceau has maintained an intense scientific production, as evidenced by his impressive list of more than one hundred and six publications and nine book chapters. In addition, he has made numerous presentations at various conferences and conventions, bothat home and abroad. As a researcher, Professor Marceau was a pioneer in the study and treatment of morbid obesity, a disease that, at the time, was unknown, ifnot denied by the majority of the population, but also and especially by fellow doctors.
This field of expertise quickly became apparent to Picard Marceau in all its complexity. To know and understand this pathology, he confined himself to a scientific collection of data as wide as possible and to a reading of all the existing literature related to it. He was a member of the D.B. Brown Chair in Obesity Research from 1997 to 2005. He was also a leader in building up a team of surgeons who developed expertise in bariatic surgery, which is now internationally recognized. In recent years, he has been a visiting professor at universities in Quebec and Europe, and he has collaborated on memoirs on bariatic surgery presented by the American Society for Bariatric Surgery.
During his career, Picard Marceau was able to surround himself with collaborators who always continue his work. Although he has retired for three years, he continuesto do a lot of research and represents the research group and Laval University internationally.
Université Laval is pleased to honor this professor who enjoys the respect and admiration of his peers.