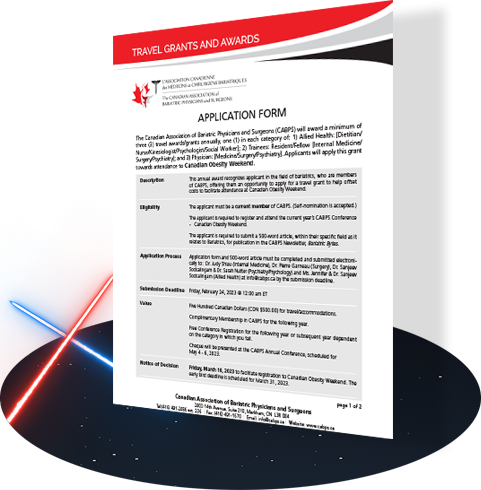 Travel Awards/Grants
The Canadian Association of Bariatric Physicians and Surgeons (CABPS) will award a minimum of three (3) travel awards/grants annually, one (1) in each category of: 1) Allied Health: [Dietitian/ Nurse/Kinesiologist/Psychologist/Social Worker]; 2) Trainees: Resident/Fellow [Internal Medicine/ Surgery/Psychiatry]; and 3) Physician: [Medicine/Surgery/Psychiatry].
Applicants will apply this grant towards attendance to Canadian Obesity Weekend.
Apply Before It's Too Late!
Please use our Travel Grants and Awards PDF application form, and send it back to the address/email provided on the form.