Message from the Conference Chair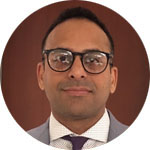 Dear CABPS Family,
In what is my third and final year organizing this fantastic Conference, I am so happy that we are finally able to get together in person to further strengthen our bonds of community.
The theme of this year's Conference "Empowering People Living with Obesity and the Clinicians Involved in Their Care".
The Conference committee has put together an amazing scientific program with a focus on advocacy, but we have also put a lot of effort into making time to reconnect and socialize with colleagues whose company we haven't been able to enjoy for several years.
I look forward to seeing you all at the Conference and, on behalf of the Board of Directors, I extend my best wishes to you and your families.
May the 4th be with you!
With warm regards,
CANADIAN ASSOCIATION OF BARIATRIC PHYSICIANS AND SURGEONS

Sharadh Sampath, MD, FRCSC
Vice President & Conference Chair