Message du Président de la Conférence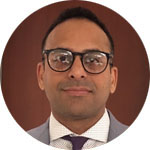 Chère famille CABPS,
En cette troisième et dernière année où j'organise cette conférence fantastique, je suis très heureux que nous soyons enfin en mesure de nous réunir en personne pour renforcer davantage nos liens communautaires.
Le thème de la conférence de cette année est « Valorisation les personnes vivant avec l'obésité et les cliniciens qui s'occupent d'elles».
Le comité de la conférence a mis sur pied un programme scientifique extraordinaire axé sur la défense des droits, mais nous avons également déployé beaucoup d'efforts pour prendre le temps de renouer et de socialiser avec des collègues dont nous n'avons pas pu profiter pendant plusieurs années.
J'ai hâte de vous voir tous à la conférence et, au nom du conseil d'administration, je vous présente mes meilleurs vœux, à vous et à vos familles.
May the 4th be with you!
Avec mes salutations chaleureuses,
ASSOCIATION CANADIENNE DES MÉDECINS ET CHIRURGIENS EN BARIATRIE
Sharadh Sampath, MD, FRCSC
Vice President & Conference Chair